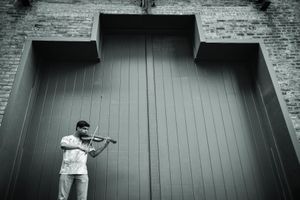 About Ryan
Ryan Udairam is a music composer from Burnsville, MN. Ryan Udairam explores cinematic opportunities in his music, regardless of genre or instrumentation. Ryan Udairam currently is engaging in the film and video game industries, having written music and designed audio for the game King Erik (Battle Crafters, LLC) his first video game that released on Steam, and is currently working audio for video games and films alike. 
Ryan Udairam studied music composition with Dr. Scott L. Miller at St. Cloud State University earning his Bachelor of Arts degree in Music Theory and Composition. Since graduation Ryan Udairam has been practicing composition and has built a reputation in Minnesota as a music composer.
What's next for Ryan Udairam is to continue growing as an audio engineer, and to cater to those who need his help and expertise in scoring, composition, orchestration, and game audio. If you would like a work to be commissioned by Ryan Udairam, or a project to be scored by him, or if you would like to hire Ryan Udairam to handle your film or video game's audio, or if you would like to have him produce your music or record your ensemble, please go to the Contact page and fill out the form, or you may visit daringsound.com/contact and fill the contact page there also.

Also, be sure to follow Ryan Udairam on Twitter, sign up for the mailing list, and support him on his Patreon page where you can gain access to Ryan's behind-the-scenes videos, his video diaries, and gain access to Ryan's techniques for composing music.